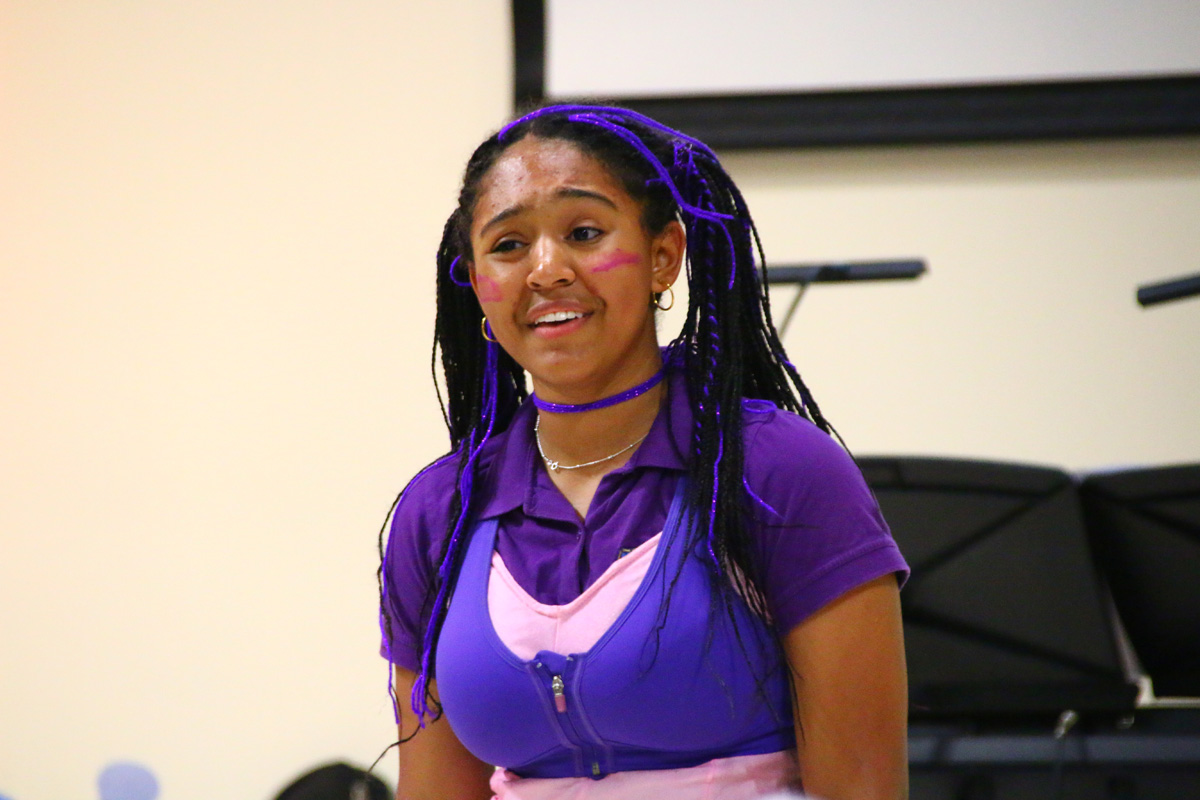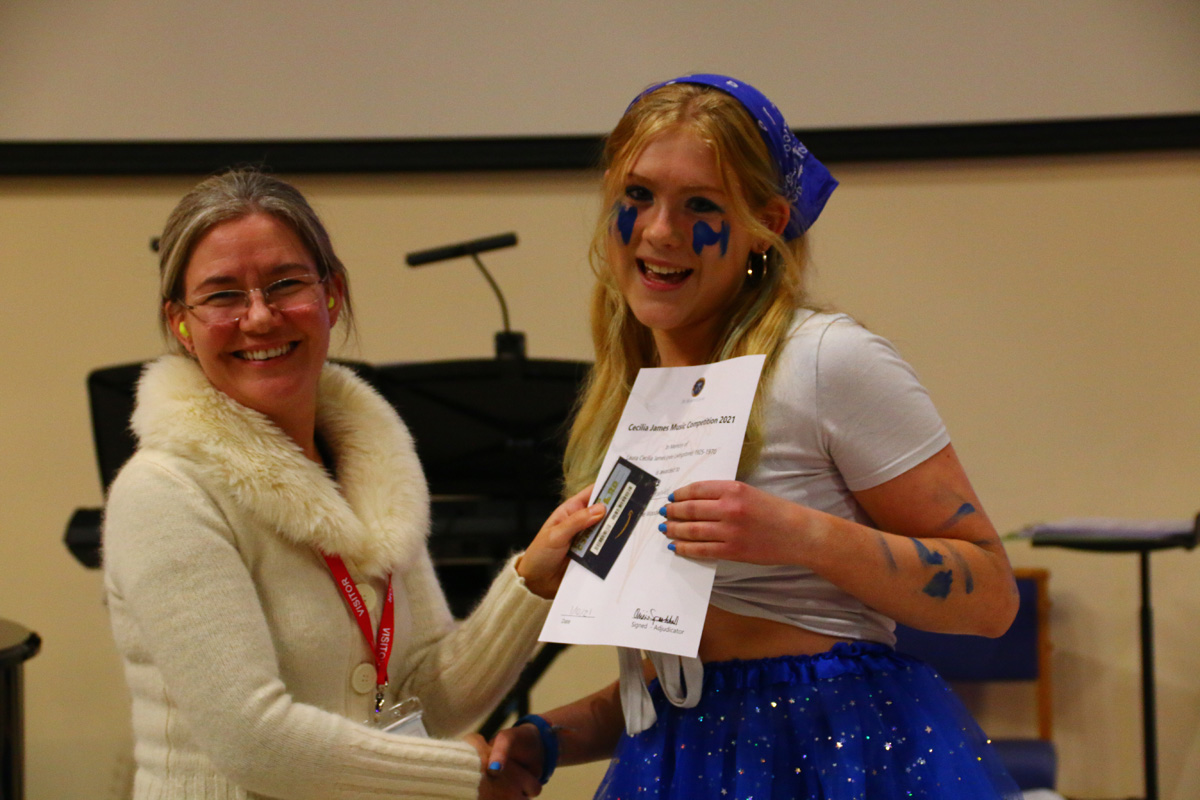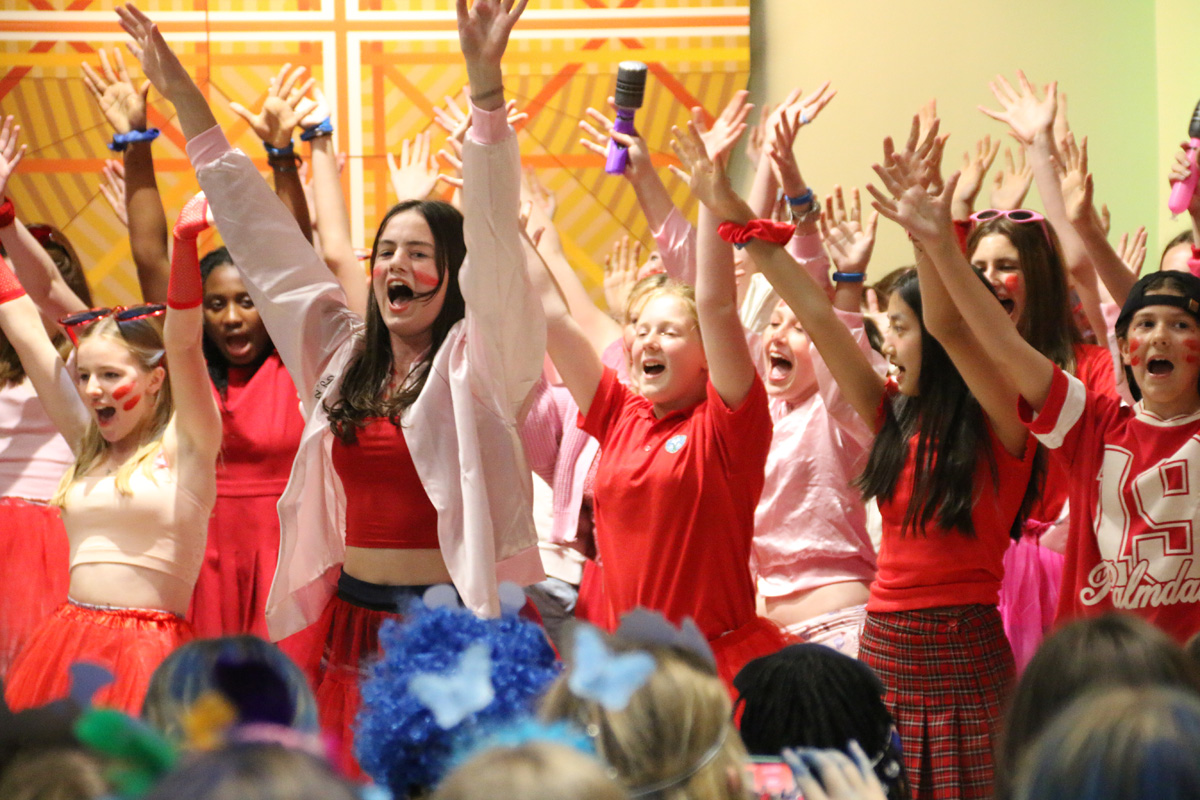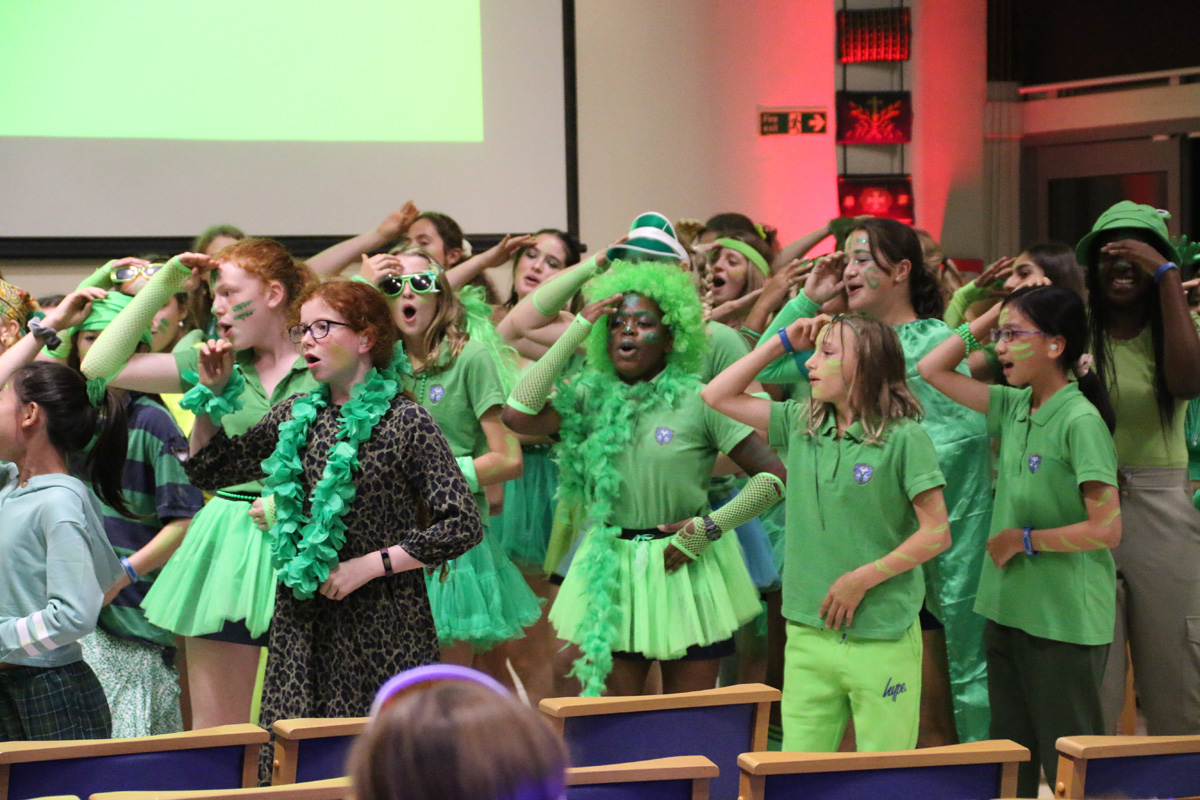 The Cecilia James Company Music Festival and Shoutwas back again in all its glory this year with performances from the sublime to the ridiculous – as is quite right for this event!
We welcomed Olivia Sparkhall this year as our adjudicator. Olivia teaches at Godolphin School and is also a published composer, conductor and the author of a series of books on Vocal Health for young musicians. During the afternoon she judged the solo rounds, which began with the Rock and Pop class – this year all Companies put forward singers and we had a variety of songs from golden oldies such as Bridge over Troubled Water sung by Deborah (LV) to the winning song Say Something emotionally sung by Leah (LVI), who was chosen as the winner of this group for Poore. The singing continued with the Voice class which featured a mixture of Musical Theatre songs and Classical – Osmund were successful here as Elan (UVI) took first place with her angelic voice. The next class was Brass, for which we had representatives playing trumpet, French horn and trombone. Osmund triumphed again with Flo (LVI) who played a sultry jazz tune The Last One Tonight on the trumpet.
After lunch we continued with the Instrumental ensembles, all imaginatively arranged by the girls themselves, featuring a wide variety of novel instrumental combinations. On this occasion, Moberly's lovely rendition of The Night We Met by Lord Huron was placed in top position, the group led by Daisy (UVI). Vocal ensembles were next, and we had some very amusing performances, every group was memorable in its own way, Moberly for their angel wings, Ed Rich for their gigantic glasses, Grosstête for their harmonies and Poore for their beatboxing, but particularly notable were the winners – Osmund – with their choreographed version of Justin Bieber's Love Yourself which involved some rapping, skilfully managed by Khalilah (UVI).
Things took a more serious turn as we moved to the Woodwind category, with some classy performances from flautists Charmaine (UV), Ashley (LVI) and Flo (LIV), a habanera from clarinettist, Tessa (LVI) and a haunting Romance from Iona (LVI), with which she won for Moberly. The String class was of a very high standard this year with some virtuosic playing from all. Any one of the girls could have been the winner but Sienna (LVI) took the prize, once again for Moberly. Finally, we had the Piano class, with notable playing from Lydia (UVI) and Laura (UV), but it was Kate (LVI) who moved the adjudicator the most with her polished and highly accomplished performance of a Sibelius romance, winning for Poore.
To begin the evening the winners from the afternoon solo rounds competed for the Cecilia James Prize. Kate's impressive piano playing saw her victorious and she was presented with the trophy this year. It was fantastic to welcome the live band back again for the Shouts this year, which always adds an extra layer of excitement and atmosphere to the evening. The theme for 2021 was 'Movie Musicals' and the girls had chosen a wide range of songs for their Companies; Osmund began the proceedings with Stick to the Status Quo from High School Musical, followed by Poore with I'm Still Standing from Rocket Man. Next Ed Rich performed Summer Nights from Grease and Grosstête sang Bet on it from High School Musical 2. Moberly ended the Shouts with I Just can't Wait to be King from The Lion King. All performances were loud, flamboyant and very entertaining and it was very close, with just a point separating each Company. Moberly won the Shout, and the Overall Festival winners were Osmund. Well done to all the Companies for their hard work this year.