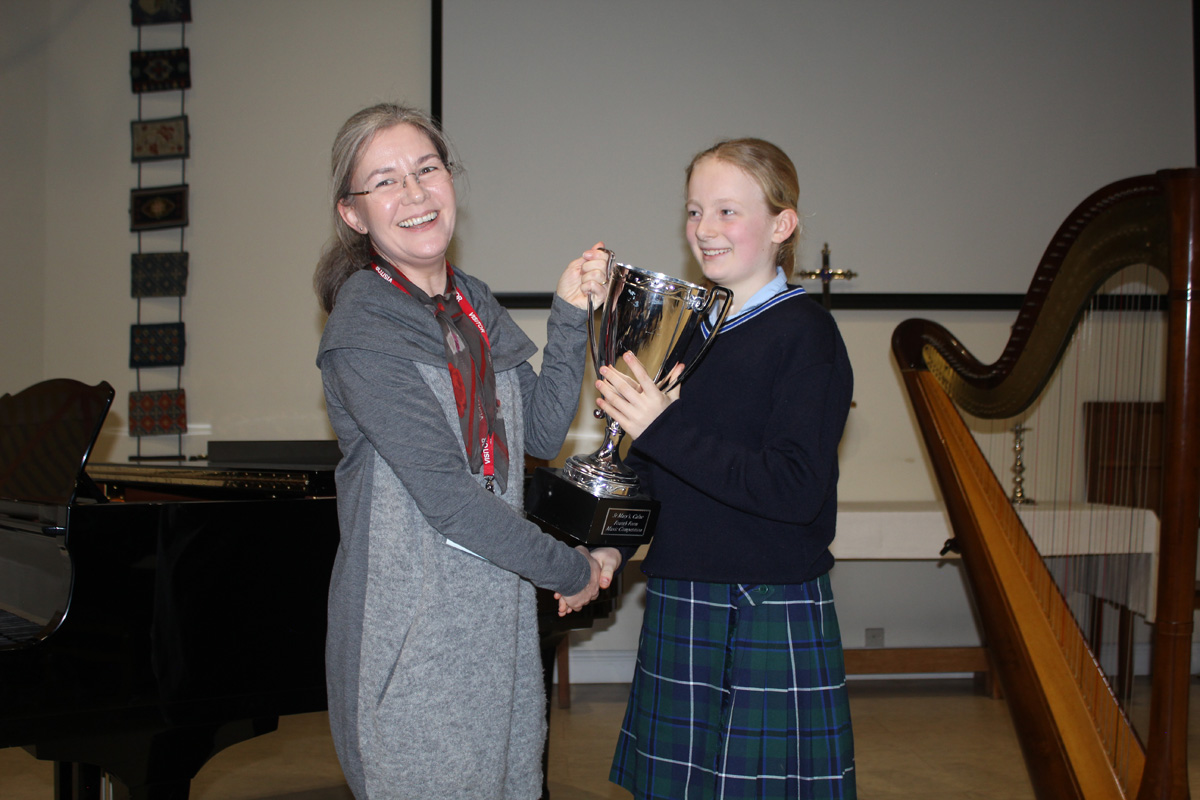 The Fourth Form Music Festival culminated on the evening of 7th March with the Celebration Concert in which 16 of our junior musicians performed for the Festival Cup.
This year was a little different with the introduction of four classes according to ability attained so far: Novice, Apprendista, Maestro and Virtuoso. Earlier this term we held preliminary rounds in which we listened to every girl who is learning an instrument at Grade 1 standard and above. We then chose four girls from each class who we felt had brought something special to their performances with good technique and musical expression. Every girl who entered was awarded Company points.
We had a fantastic audience of parents, pupils and staff who showed ecstatic support for every performer, which helped to calm any nerves they may have been feeling. The evening began with our Novice performers: Georgina, Millie, Emilie and Lucy, who all showed enormous potential on their instruments and performed with confidence and musicality.
Next, we were treated to two vocal and two piano gems, from Karen, Matilda, April and Clara who performed in the Apprendista category, each girl already showing much mastery of their respective instrument. We continued with the Maestro selection comprising of Guinevere, Mia, Bianca and Sophia, all of whom displayed amazing maturity in the delivery of their pieces. The Virtuoso class was exactly what you would expect from the name – four dazzling displays of accomplishment, astonishing in girls so young – from Allison, Ellie, Myra L and Lily.
We welcomed back Olivia Sparkhall to adjudicate the concert, she had visited us back in October when she judged the Cecilia James Festival and Company Shout. Whilst Olivia made her deliberations, the evening continued with LIV (Year 7) Band who performed their arrangement of Maroon 5's song Memories. A special commendation to them as this group was entirely put together and rehearsed by the girls themselves. This was followed by a song premiere. Mona, April and Millie performed a beautiful song they had written themselves called Reality. We really do have a bunch of talented and proactive young musicians at St Mary's!
Olivia gave the girls some encouraging and useful comments about their performances. Of course, all the girls had proved themselves a winner by reaching the final of the Festival but each class needed an actual winner. Olivia presented prizes to the performances that had moved her the most. They were as follows:
• Novice – Emilie
• Apprendista – April
• Maestro – Sophia
• Virtuoso – Allison
The overall winner was then announced and presented with the cup. The winner of the Fourth Form Music Festival 2022 was Lily. Well done to everyone for making the evening so magical! If you missed this fantastic event, the entire concert was filmed and can be viewed here