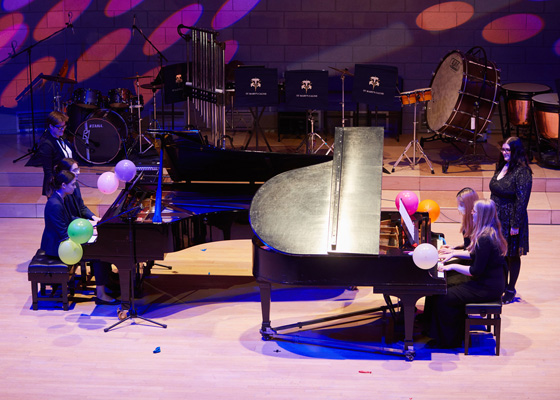 Last Friday, 18th March, saw the return of the annual Spring Concert, this year titled 'Up: Music to Make you Smile', and indeed it did. We were treated to some stunning performances from a record number of performers – 111 girls took part this year with every single one of them taking part in the UVI (Year 13) arranged and rehearsed Finale, One Day Like This by Elbow. The entire ensemble was led by Elan for this truly spectacular last item, with requests for an encore which the girls were happy to provide.

The concert opened with the humorous Balloon Polka, scored for 2 pianos, 8 hands, followed by a memorable performance of La Brindisi from Traviatta by Opera Ensemble. Sienna enchanted the audience with her solo rendition of Dragonetti's Solo in D for Double Bass, accompanied by select students from LIV to UVI. School Band treated the audience to a wonderful cover of On Top of the World; Symphony Orchestra made the audience chuckle with The Typewriter and part of the Gogol Suite. We were lucky to hear excerpts from the Sound of Music from both Junior Consort and LIV Choir, both of which charmed the audience. Chamber Choir's Zadok the Priest was a triumphant tour de force, with String Sinfonia and Strictly Strings following up and including their own dance moves.

Overall, the concert was a huge success and a wonderful opportunity for our students to perform in an outstanding setting alongside professional musicians. We are very grateful to the Wiltshire Music Centre for all their assistance in accommodating us in such large numbers!