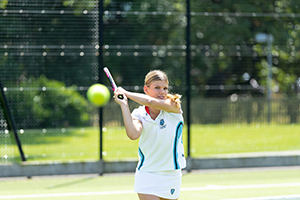 Tennis is a very popular sport at St Mary's. The school competes at the Independent School Championships every year, and in July 2018, the Under 13 made the Semi-Finals of the Ralph Cake Plate.
St Mary's Calne Tennis Academy (SMCTA) provides professional coaching to all students who request lessons, no matter what their ability. The lessons are scheduled around academic subjects and all coaches try to complete 35 weeks of lessons throughout the academic year. There are currently 183 pupils (over 50% of the school population) participating in weekly individual lessons. There are many other opportunities to participate within tennis, such as gaining qualifications, such as Tennis Leaders, volunteering as Tennis Assistants and taking part in social, weekly club night events. SMCTA recently launched a new Box League competition format for pupils of all abilities who wish to play that little extra during the week.
Since starting to run Tennis Leader qualifications, we have had pupils continue on the coaching pathway, obtaining their Level 2 qualifications, enabling them to become Tennis Assistants at university.
The coaches will structure lessons to suit every pupil's needs depending on their ability, experience and desire to compete. All players who participate in tennis coaching will be signed up to British Tennis and will receive all the benefits which come with being a member. These include being able to opt in for the Wimbledon Ballot and receiving a Lawn Tennis Association rating.
SMCTA can provide tailored coaching and tournament programmes for those pupils who compete at County, Regional or National level, working alongside any coaches or clubs that the pupil currently trains with.
If you are a current parent and would like to book your daughter onto our coaching programme please return a completed Submission Form on My School Portal.