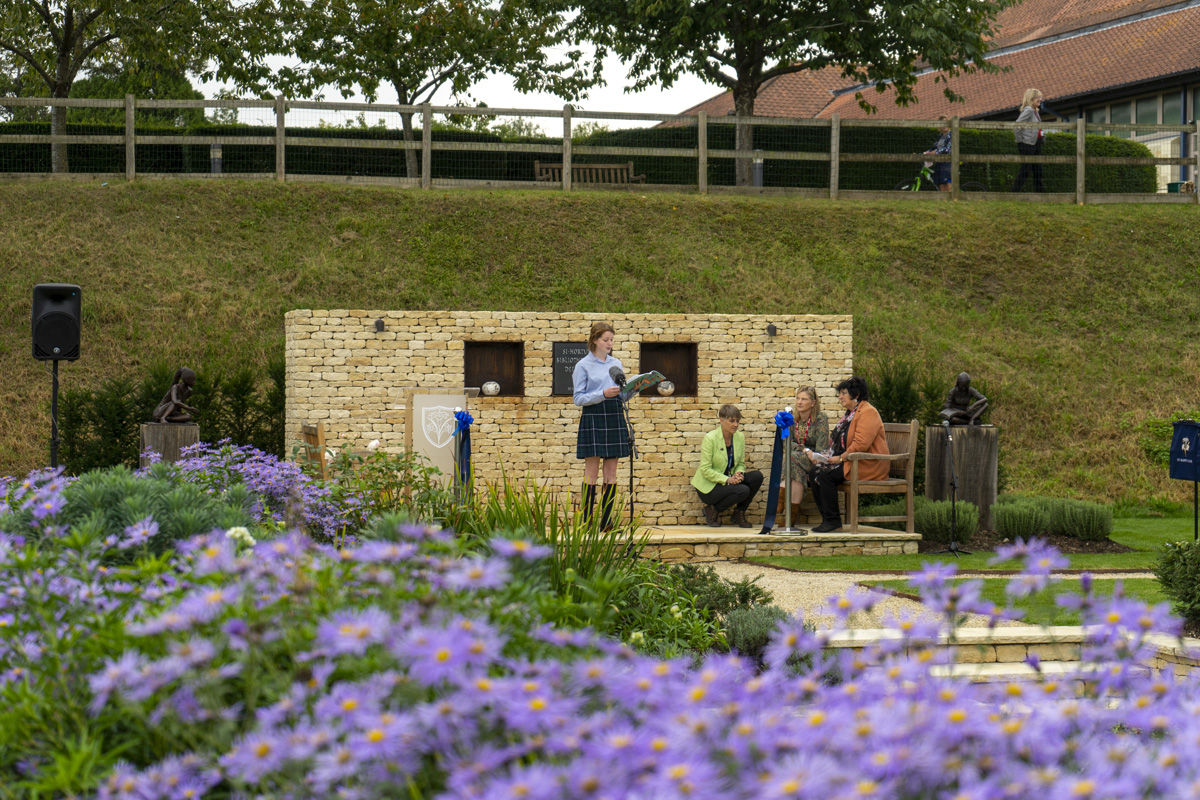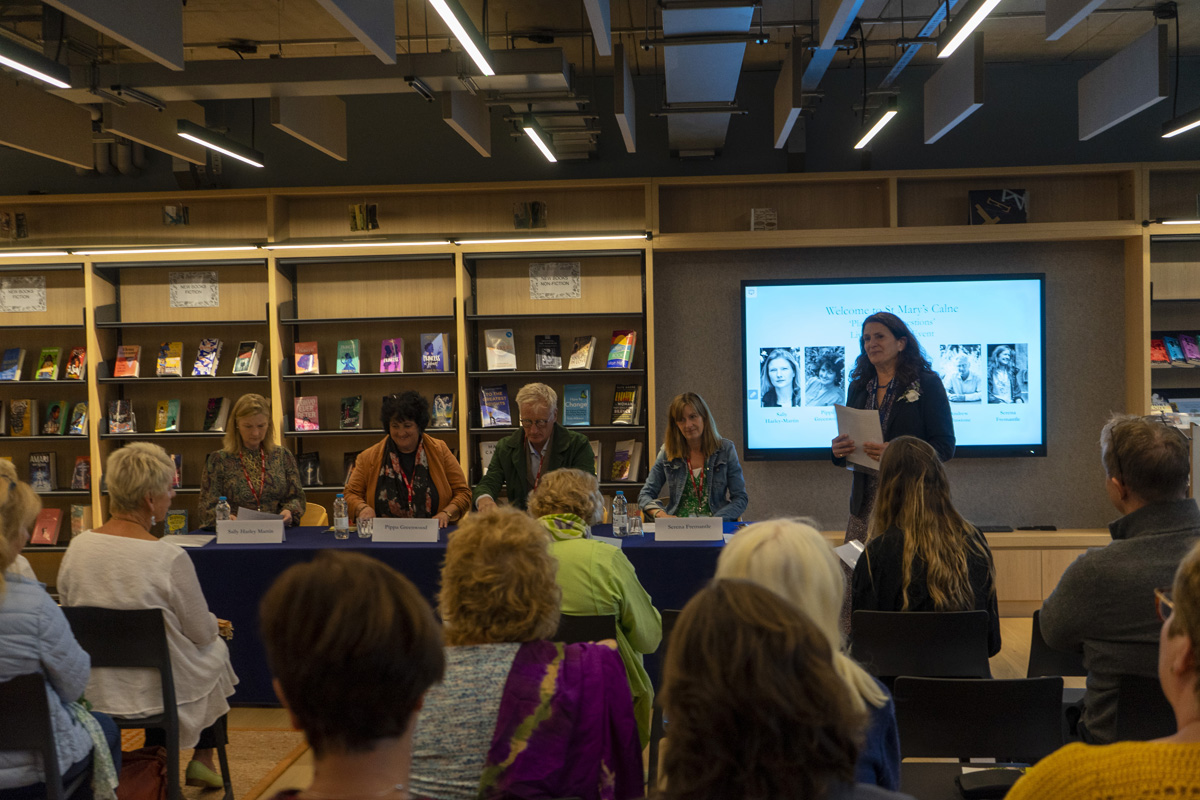 Throughout last week, we enjoyed a series of wonderful 'Leaf to Leaf' events to mark the opening of our beautiful new garden and library. On Wednesday 22nd September, we were delighted to welcome Gardener, BBC broadcaster, writer and lecturer, Pippa Greenwood, to officially open our beautiful Lime Kiln Garden. Originally planned for Spring 2020, the Garden Opening was postponed due to the pandemic, so it was even more special to welcome guests and bring our community together again to unveil this beautiful space, designed by Sally Harley-Martin.
Governors, parents, alumnae and trustees of the Calne Foundation Trust joined the celebrations and enjoyed the garden, which looked splendid with the school colours of shades of blue and white on show, while the girls tucked into ice cream in the September sunshine.
Head, Dr Felicia Kirk, welcomed guests and opened the evening of celebrations; she described the extensive benefits of this unique space and how it has become a wonderful asset enjoyed by the girls and staff alike. She explained how lovely it had been to see how the whole community has enjoyed this new space; from our Remembrance Day and Christmas Carol services to lunchtime concerts and Founders' Day celebrations, and 'just seeing the day-to-day enjoyment: girls running from supper to play on the swings, staff and girls sitting and chatting at the tables, or soaking up the sun whilst reading a book'.
Dr Kirk went on to thank Garden Designer and former Calne parent, Sally Harley-Martin, who meticulously designed the space to create 'an oasis of calm contributing to the wellbeing and enjoyment of everyone in our community'. Sculptor Anna Bromiley was thanked for the crafting of Faith, Hope and Love: three elegant sculptures which sit within the garden, as well as former parent, Lisi Ashbridge, for the magnificent hand carving on the slate plaque mounted in the central recess of the dias which displays Cicero's words 'SI HORTUM IN BIBLIOTHECA HABES DEERIT NIHIL' (If you have a garden and a library, you have everything you need).
Sally Harley-Martin then described her process of designing the garden, the considerations of the topography and geology of the site and how she put the garden together to really entice us all to use it, to open our eyes to the seasons and to enjoy the fresh air. She spoke about each area of the garden, including 'The Green' which is the most traditional area in style and structure, with a central sunken garden in local stone, referencing the school's Lime Quarry heritage (the Grade II Listed Lime Kiln still stands and is an ever-present backdrop). Sally explained how thrilled she was to have seen the garden put to such great use already in its initial year, and thanked the Grounds Team for their guidance and care of the garden.
Pippa Greenwood then spoke, stressing the many benefits of nature and outdoor space on our mental wellbeing. She described how, in her personal life, getting outdoors and in the garden had contributed to her own wellbeing, particularly when dealing with challenging circumstances such as upset toddlers or a stressful day at work! She also highlighted the benefits of a career in horticulture to the audience and girls, urging them not to dismiss this as a career path, and encouraged us all to pursue our interests and passions fully. She then cut the ribbon and declared the garden officially open.
As we enjoyed entertainment from the girls, which included some beautiful singing, piano and guitar solos, local gardening enthusiasts arrived to enjoy the garden before making their way to the library for 'Plant your Questions', a live expert panel event, chaired by Pippa Greenwood.
Andrew Johnstone and Serena Fremantle joined Sally and Pippa to form an esteemed panel of gardening experts. They took a series of questions from the audience and each panellist offered detailed and thoughtful insights and expert tips on a range of garden-related queries, from advice on growing Orchids, to how to extend garden interest into autumn and recommendations for caring for Agapanthus over winter, to name a few!
It was a wonderful evening of festivities to mark the opening of this fantastic space and we are looking forward to watching the garden grow and thrive alongside generations of Calne girls.