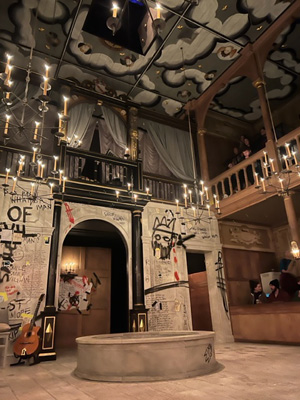 screenshot 2022-03-10 at 07.31.36.jpg
screenshot 2022-03-10 at 07.26.56.jpg
LVI and UVI (Year 12 and 13) students of A Level English were thrilled that St Mary's had secured tickets to experience the sell-out production of Hamlet at Shakespeare's Globe on Friday 4th March, at the end of its opening week.
Here, LVI student, Katie, reviews the production:
'Receiving reviews such as: 'It's Hamlet but funnier, scarier, and more daring than you have ever known…' Sean Holmes' production of Hamlet, seeks to 'subvert the play's standard tropes' and the audience's earlier expectations of the play. The play even includes regular intervals of songs by The Smiths, including 'I Know it's Over' thus, successfully conjuring, from the start, the sense of inevitability of Hamlet's impending fate.
Holmes' production of Hamlet provided a unique portrayal of the eponymous character, with a black country accent, an earring and Doc Martens. Hamlet's madness appears at the start to take only the form of dark humour; however, this quickly descends into something much more sinister. With a large focus on the violent death of Polonius – in which it is clear Hamlet knows exactly who he is killing – Holmes' version provokes the audience to question did Hamlet enjoy this brutal act?
Holmes also takes liberties to replace Hecuba's speech within the play for a scene from Romeo and Juliet. And Ophelia is forced to become the actress within Hamlet's '12 or 16 lines' thus drawing the audience's attention to her 'demeaning manipulation' by Hamlet.
The candlelit Sam Wanamaker playhouse notably highlights to the audience the intrinsic corruption in Elsinore, with a stage that progressively deteriorates. The small playhouse also enabled the cast to encircle both the stage and the audience, thereby, creating the illusion that the audience have become entrapped within 'the massy wheel', of the death of a king, which like a 'gulf doth draw what's near it with it.'