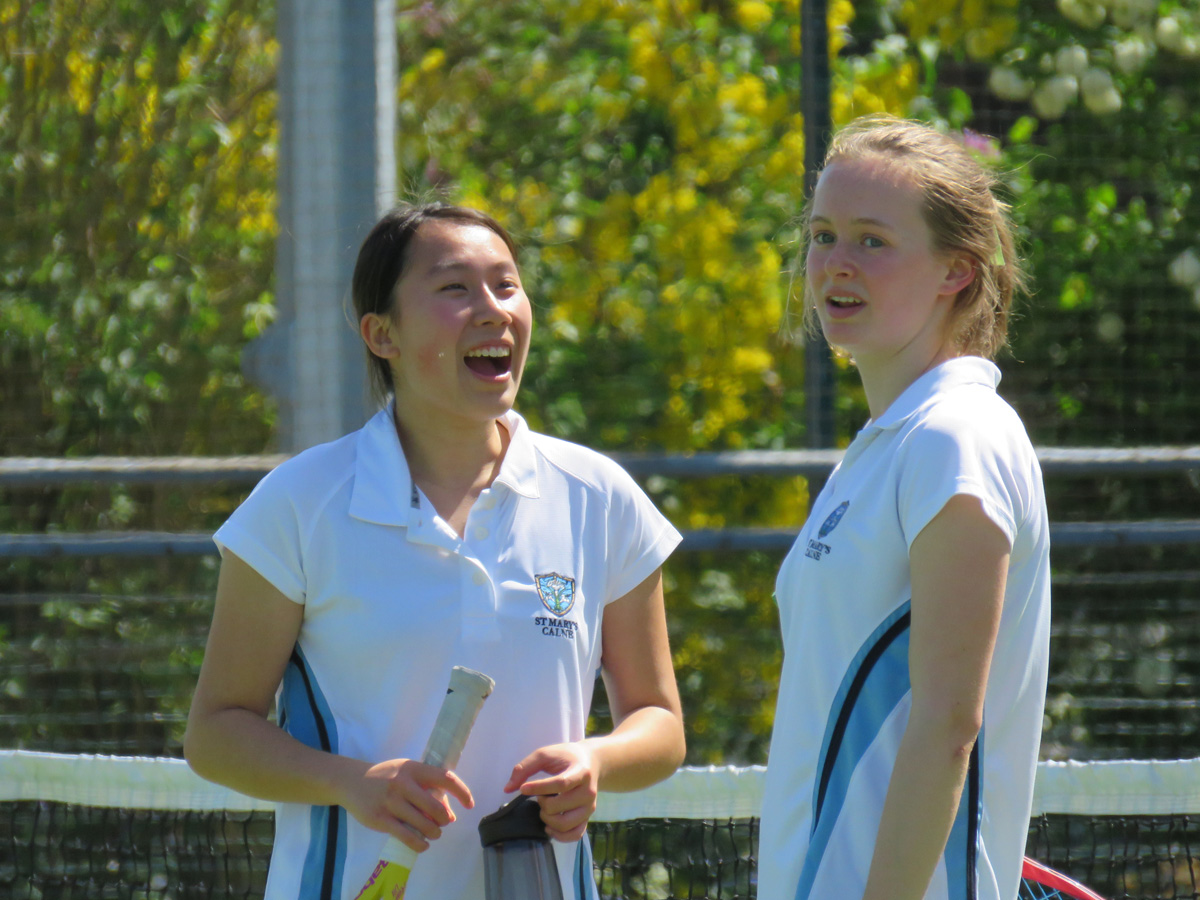 On Saturday 14th May, St Mary's had an incredibly busy day of tennis, with fixtures at home and against Marlborough College, and the ISGTL tournament at Bradfield College. In total, there were 108 pupils competing across the weekend, from UIV to UVI (Year 9 to13).
In the U14s we managed to field six teams from A to F, with our Bs and Fs coming back with a win. Meanwhile, our U15s had five teams ready to compete from A to E, with our As claiming a narrow win. Moving on to the Seniors, fielding the 2nds to the 6ths, we picked up another good result from our 2nds, winning 7-2.
Twelve pupils were selected to represent St Mary's at the ISGTL, which is one of the most enjoyable and well organised tournaments in our calendar year. With eight schools coming together to form two round-robin groups, St Mary's found themselves grouped with Bradfield College, Marlborough College and Cranley School.

Our first rubber was played against local rivals, Marlborough College, and with the score being 3-2 to Marlborough it was down to our last match to decide the win. The U16s played well to get to a tiebreak, although Marlborough College came away with the all-important narrow tiebreak win.
Moving on to round two, and another tough match against Cranley School. St Mary's found themselves in exactly the same situation, requiring a win from the last match which ended up in a narrow loss in the tiebreak yet again. Feeling frustrated with two losses yet being so close to two wins, our last rubber saw us face Bradfield College who were clearly up for the challenge. With pride to play for, St Mary's put in their best performance to push Bradfield College all the way to the final game. Our U14 and U15 teams, who had won all their matches so far, came away with another win and our U16s came out on the correct side of the coin to come away with the all-important tiebreak win to take the rubber to three games all, St Mary's prevailing winners, 16 to 15 in games.
The results from our two opening rubbers meant that we found ourselves in a play-off against St George's College, where we saw a role reversal in the fortunes of our teams. Our U14s, U15s and U16s faced their toughest matches yet while our Seniors, who were yet to have a win, rescued the tie with a narrow victory to make the scores 3-3 in games. However, as every game matters in this format, St Mary's won the tie 17-15 in games.

All of our pupils played a valuable part at various points throughout the tournament and with a young team gaining valuable experience for up-and-coming years of competing at the ISGTL, all is looking good for the years ahead.
Thank you to Mrs Dawn Riley for capturing a wonderful day on film and thank you to all the parents who came to support the team.
Mr Jonathan Hayes, Director of Tennis