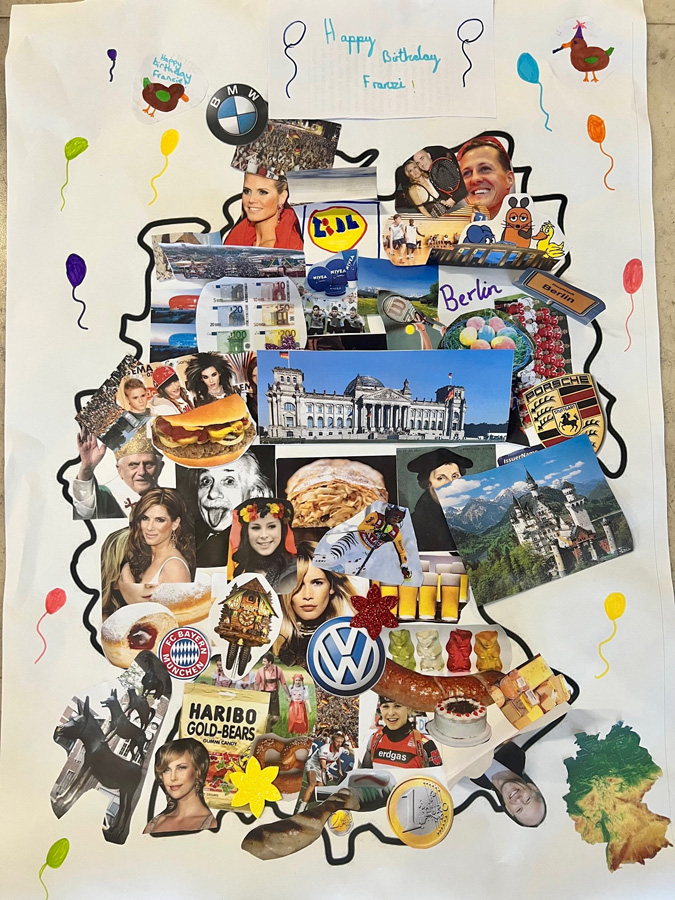 It's not every day you plan for a birthday party – in German! That's exactly what happened at 'Franzi's Birthday' – a German Language and Culture Day for Year 5 pupils, presented by the MFL Department.
This special day is a fun-filled, interactive introduction to the language and culture of Germany that is set against the storyline of Felix the frog organising a surprise birthday party for Franzi the duck.
Year 5 girls from six local Primary and Prep schools (Cherhill, Derry Hill, Hilmarton, Holy Trinity, St Edmund's, St Margaret's) took part in the day, learning German words, playing German birthday games and making new friends along the way.
The girls learnt to count (it was Franzi's 8th birthday!) and sang 'Hallo', 'Goodbye' and birthday songs in German. It was a very sticky affair when the girls tried making iconic German structures, the Brandenburg Gate and the Berlin TV Tower, from spaghetti and marshmallows!

At lunch, the girls were hosted by Year 10 St Mary's students and enjoyed a tour of the school, getting a taste of a secondary school environment.
The final session culminated in party games with current Year 8 girls and the girls singing 'happy birthday' in German. They finished the day in the Dining Hall to enjoy an amazing chocolate birthday cake – complete with a fondant Franzi duck!

Fun was had by all involved and the German teachers were very impressed by the enthusiasm and fantastic creativity shown by all the Year 5 girls who came to visit and helped to make Franzi's birthday a day to remember. They are already looking forward to hosting Franzi's next birthday party.

At St Mary's, all the girls in LIV Form (Year 7) study Mandarin and Latin and they can also choose one additional language from French, Spanish or German (from Year 8). Classroom lessons are then put into practice with language trips and exchanges offered to the girls throughout their St Mary's school years, as a chance to use their language skills amongst native speakers.