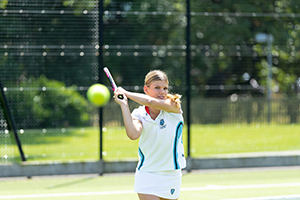 Tennis enjoys a high profile in school. Every girl in the Fourth Form will be taught tennis within the curriculum and it is a popular option for the Fifth and Sixth Form in their games afternoon. Evening tennis clubs are on offer, as well as private tennis coaching with one of our professionals.

Matches are played mid week and on Saturdays, enjoying an extensive and competitive fixture list including Dauntsey's, Downe House and Cheltenham Ladies' College. We enter all our junior teams in the National Aegon Competition.
The school has 24 tennis courts (comprising 16 astro courts for the Summer Term and 8 hard courts).
There is a growing depth of talent, especially within the junior teams and this is promising for the future.
For further information about our coaching programme and strategy, please visit the St Mary's Calne Tennis Academy (SMCTA) pages.